How to Complete Missions, Earn Robux, and Level Up!
Here at Buzzy Games we've created an opportunity for you to earn Robux anytime you help a community member out! This means being compensated for creating a helpful script, awesome models, builds, and so much more! To get started in earning Robux, you can browse the large selection of missions available to be completed. Each mission completed you will be given "Buzzy Credits" and with these credits you'll be able to redeem for awesome rewards! Once the mission is completed, it'll go under review by a buzzy team member and the Buzzy credit will be credited to your Buzzy account.
To access the missions table head over to our homepage and click on the green box titled "Earn rewards helping other creators!"

Select the mission you're interested in and click the "CLAIM MISSION" button.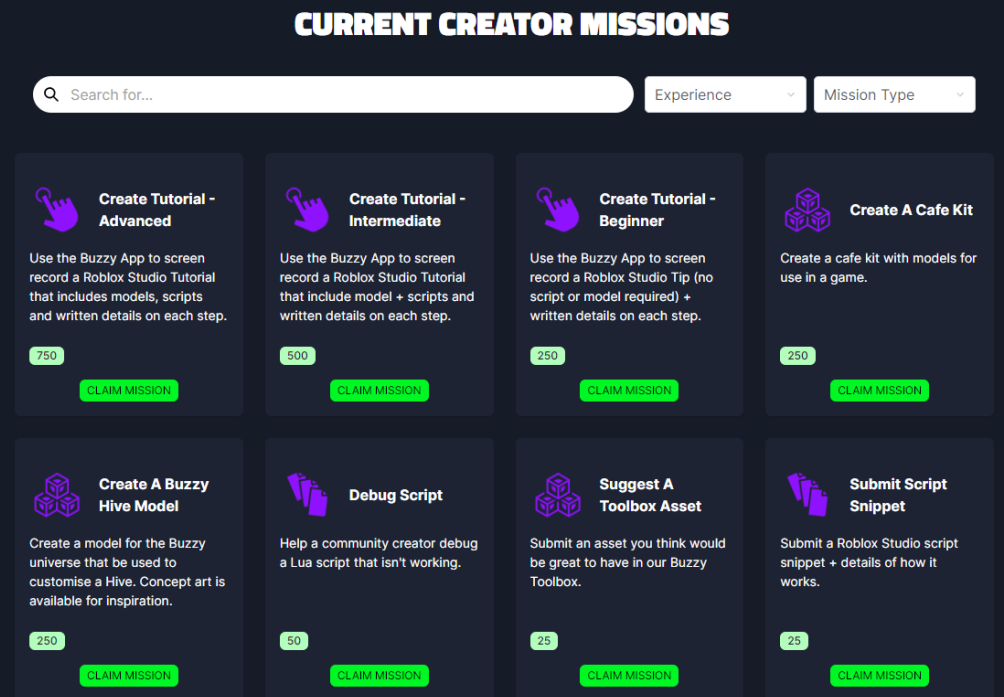 A new Tab will open with the Mission request form and fill it out for you to submit. A team member will get back to you promptly with your mission details!
How to Level Up
There are three ranks available for you to level up in:
Contributer
Creator
Lead Creator
The higher your rank, the more Robux you'll be able to earn and missions available to be completed.
Any developer that completes a mission will earn the contributor rank. To level up to the creator rank you must earn 3,000 buzzy credits. To level up to the last rank as lead creator, you will be invited by a Buzzy Team member to apply.
Note: Add about deranking- seasons
We invite creators to become lead creators who are:
Active in the community
Consistently helping other developers
These are the current guidelines for this season – each season the Buzzy Team will review and update these guidelines.